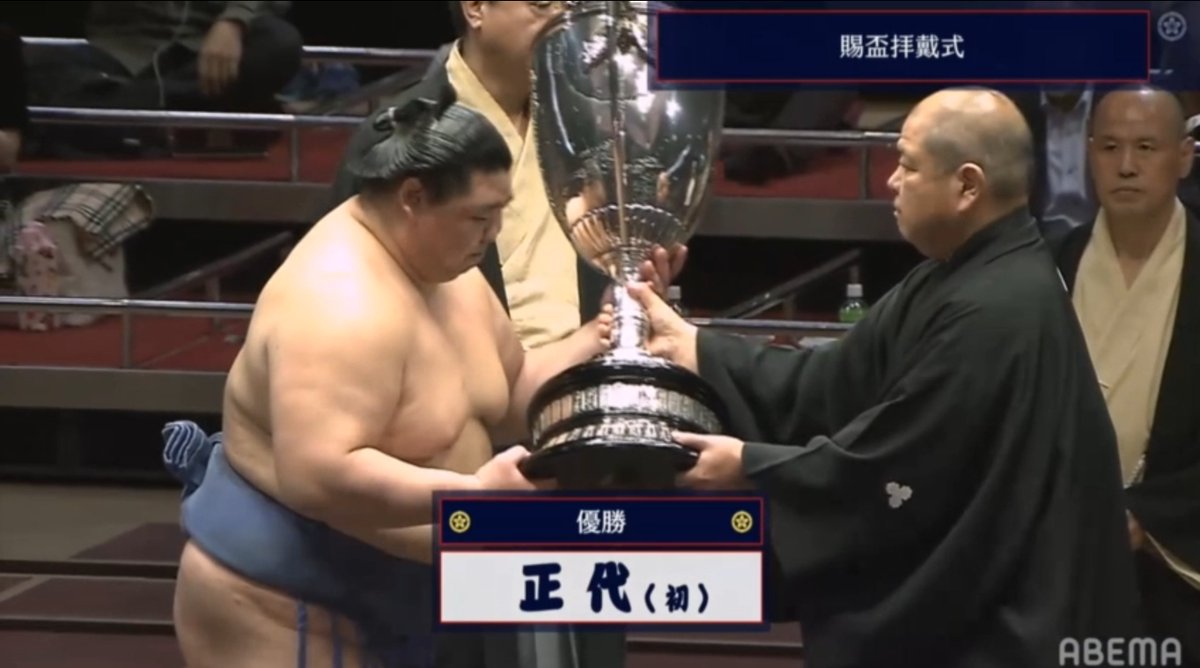 We've come to the end of the exciting Aki basho. Warmest congratulations to Shodai on his first Emperor's cup and upcoming Ozeki promotion. Personally, I've been a huge fan of this good-natured, humble young man since I started following sumo, and I could not be more delighted with the outcome of the yusho race. Shodai always had the size and the skills, and it's great to see him raise both his physical and mental game and have it all come together. While his final-day victory was close and understandably showed some nerves, his defeats of the two current Ozeki on days 13 and 14 were emphatic. Tachiai wishes him a long, healthy and successful career in sumo's highest ranks.
Now that all the results are in, let's take a look at what they're likely to mean for the November banzuke. We'll know more on Wednesday, when sekitori promotions are announced, as are any retirement decisions that are made in time to affect the next rankings.
The Named Ranks
Both Ozeki posted double-digit wins, but Takakeisho (12-3; jun-yusho) unquestionably had the better tournament, and will be switching sides with Asanoyama (10-5). Shodai, despite putting up the best performance of the three, will make his Ozeki debut at O2e, as is customary for the newly promoted.
West Sekiwake Mitakeumi (8-7) is the only member the Sekiwake/Komusubi quintet who will maintain his rank, even getting a nominal promotion to the East side. His Ozeki run is still technically alive at 19 wins over the past two basho at Sekiwake, but it's hard to see him putting up the 14 wins he'd need to get to 33 in November.
Shodai's promotion, along with demotions of Daieisho (5-10), Okinoumi (4-11), and Endo (3-9-3), will open up three san'yaku slots. I expect them to be filled as follows: M1w Takanosho (10-5) at West Sekiwake, M1e Terunofuji (8-5-2) at East Komusubi, and M6e Takayasu (10-5) at West Komusubi. Only the last of these is in any doubt, as M8w Wakatakakage (11-4) and M5e Kiribayama (9-6) have plausible claims, but I think that Takayasu's case is superior based on both the rank/record combination and his past résumé. Assuming everyone shows up healthy in November, this would be a formidable san'yaku indeed.
Upper Maegashira
The top maegashira rank should be occupied by the aforementioned Wakatakakage and Kiribayama. After that, it's a mess of a few winning records from lower down the banzuke (Onosho, Kagayaki, Tobizaru) and losing records by current san'yaku and upper maegashira (Daieisho, Hokutofuji, Myogiryu, Takarafuji, Okinoumi). Plenty of opportunities for the banzuke committee to make some head-scratching decisions.
Makuuch-Juryo Exchanges
The final-day results brought a lot of clarity to a messy exchange situation. Recall that the absent Abi and Kyokutaisei were already certain to drop to Juryo. His final-day loss ensured that Kotoshogiku would join them, unless he decides to jump before he is pushed and calls it a career. I also think that given the results in Juryo, final-day victories by Shohozan and Ishiura were too little, too late, and they will also be heading down to second division (I've heard talk of Shohozan retiring, but he seems a lot less likely to do so than Kotoshogiku).
On the other hand, final-day victories by Ichinojo and Hoshoryu, the two lowest-ranked men in Makuuchi, gave each a last-minute kachi-koshi and complete safety from demotion. That leaves one top-division rikishi on the bubble: M15e Shimanoumi (6-9). While this record at his rank would usually mean demotion, I think he'll just hang on, given the 5 demotion candidates ahead of him and a dearth of promotion cases in Juryo.
Speaking of Juryo, only two rikishi posted records that definitely merit promotion: J2w Kotonowaka (9-6) and the Juryo yusho winner, J11w Chiyonokuni (14-1). However, given the strong case for 5 demotions, I think that J2e Kotoyuki (8-7), J4e Chiyoshoma (9-6), and J6w Akua (10-5) will be deemed to have done enough. This would mark a top-division debut for Akua and a return to the top division of "sumo villain" Chiyoshoma after an unmourned 7-basho absence.
Juryo-Makushita Exchanges
For the moment, let's leave aside possible sekitori retirements, as well as the uncertain banzuke fates of J7 Azumaryu and J14 Fujiazuma, whose whole heya went kyujo as a coronavirus precaution.
There should be four "normal" openings in Juryo, created by Kizakiumi's retirement, Oki's disastrous 0-15 sekitori debut, Kitaharima's near-record 8th demotion, and Daishoho's two straight losses in "exchange bouts" with Makushita opponents.
The first two slots will go to Ms1e Takagenji (4-3) and Ms1w Jokoryu (4-3). I believe that the next two should be claimed by Ms4w Naya (5-2) and Ms5w Ura (6-1), the men who handed Daishoho the key defeats. I am sure I am far from the only one who would be very excited to see these two in the sekitori ranks. I think Ms2e Chiyonoumi (4-3) is 5th in line, and Ms5e Kotodaigo (4-3) is definitely 6th. When the sekitori promotions are announced on Wednesday, their fate will tell us a lot about how lenient the banzuke committee decided to be with Azumaryu and Fujiazuma.
And that's a wrap for this series of posts for September. I'll write a follow-up when the Juryo promotions are released, and a full banzuke prediction post once I've more fully digested the results. Thanks for following along, and let me know what you think in the comments!